ELA International and Crystalfoot : funding the research on the leukodystrophies.
"To go even further in the research against the rare diseases, I looked for an idea, new, strong, powerful and ambitious one. We don't have the choice, being ambitious, it is necessary when we have to cope with serious diseases. This idea naturally imposed to me, I had it right here. We are lucky to have Zinedine Zidane as a godfather of ELA. Furthermore, taking over this magic feet which delighted millions of spectators thanks to his prowess on the ground became obvious.
I told myself that we had to make this foot a symbol and turn it into an object of art to attract attention. This is how the idea of the crystal foot was born. To achieve this, we had to gather forces. The first of these are the sick children who endure their illnesses and have something to teach all of us about life. It's enough to watch them living without complaining, while their everyday lives are heavy and complicated, full of suffering. The parents who take care of them without weakening also show us courage that we can hardly imagine to keep fighting."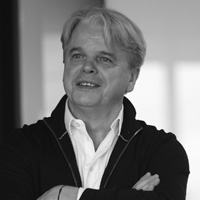 Guy Alba,
President of ELA International
Our missions
• Funding medical research on leukodystrophies
• Informing and supporting affected families
• Raising public awareness
• Developing its action at international level
Developing research, a priority action for ELA International
ELA supports research in the field of leukodystrophies. To date, more than 558 research projects have been funded for a total of  € 47,55 million.
ELA's aim is to help French and international researchers better understand the mechanisms of the disease and its natural history, particularly through the discovery of evaluation tools and biomarkers, and help clinicians to carry out clinical trials in order to combat leukodystrophies.
Since its inception, through the publication of a call for tenders, ELA has been inviting the international scientific community to submit research projects in the field of leukodystrophies: clinical trials; clinical trial preparation; preclinical studies specifically testing therapies; development of relevant animal or cellular models of human leukodystrophies; study of the mechanisms responsible for the disease in order to identify new therapeutic approaches; research on the prevention and repair of white matter lesions in humans or in specific animal models of leukodystrophies. ELA has organised three international scientific congresses bringing together leading specialists in leukodystrophies and myelin repair. These events allowed to take stock of the latest discoveries in the field and to promote exchanges and collaborations between researchers/clinicians.
In order to keep families informed, every year ELA organises a symposium dedicated to patients and their families. On this occasion, specialists in leukodystrophies convey inform families about progress in the field in a simple and understandable way, and answer their questions. This is a unique moment of exchange between researchers/clinicians and patients.